Visa Debit Card
Use it instead of a check. Anywhere Visa is accepted.
Have all the advantages of an ATM card plus the convenience of making purchases without cash and without writing a check by using the Security National Bank Visa Debit Card. Because it carries the Visa symbol, the Visa Debit Card works like a check anywhere a Visa card is welcome. Your card is accepted at over 12 million locations around the world!
Present your Visa Debit Card at the time of purchase and the amount will automatically be deducted from your checking account. There is no checkbook to carry. No check to write. No waiting for check approval. So you're in and out of stores in no time.
Record keeping is simple and accurate because every time you use your Visa Debit Card to make a purchase, you get a receipt. In your monthly checking account statement, every purchase will be detailed with the amount and the merchant's name. It makes it simple to keep track of how much you're spending.
Use it 24 hours a day, 7 days a week to make cash withdrawals, transfer between accounts, and even check your balance at thousands of locations worldwide.
Pay with your Visa Debit Card using Apple Pay, Samsung Pay or Google Pay.

Be sure your phone or tablet has the latest version of software
Add your Visa Debit Card to Apple Pay, Samsung Pay or Google Pay
Pay securely with a single touch at hundreds of thousands of stores and participating apps.
Security National Bank's American Flag debit card.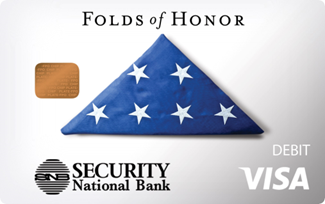 Every time you make a purchase with this card, Security National Bank will donate a portion of the proceeds to Folds of Honor.

Folds of Honor is a nonprofit organization that provides educational scholarships to the spouses & children of military members who have fallen or been disabled while serving in the United States Armed Forces. Since 2007, Folds of Honor has awarded over 29,000 educational scholarships across all 50 states.

Visit www.foldsofhonor.org to learn more about Folds of Honor.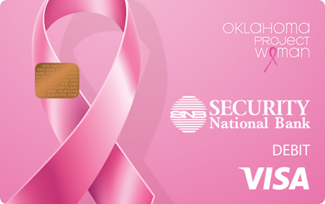 Every time you make a purchase with this card, Security National Bank will donate a portion of the proceeds to Oklahoma Project Woman.

Oklahoma Project Woman is dedicated to providing access to breast healthcare for uninsured women with limited financial resources. Since its beginning in 1998, Oklahoma Project Woman has provided breast healthcare for more than 63,000 uninsured Oklahomans, 859 of whom have been diagnosed with breast cancer. Because it's a local organization, all the proceeds stay in Oklahoma.

Visit www.oklahomaprojectwoman.org to learn more about Oklahoma Project Woman.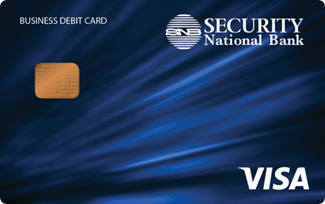 Security National Bank's business debit card.
To report a lost or stolen Debit card call: 1-888-263-3370

For additional information contact a Customer Service Representative at (580) 234-5151 or email us at Customerservice@SNBEnid.com
You should be aware that e-mail is not a secure channel of communication. Please do not use e-mail to send us sensitive information such as account numbers, PIN numbers, passwords or personal identification information.
Personal Credit Cards
Our Platinum credit cards offer hometown convenience, worldwide acceptance and great benefits.
Three great options all from the bank you know best.
Rewards Platinum – unlimited reward points that don't expire. Earn one point per dollar on net purchases and redeem them for merchandise, rental cars, travel and more. Visit cRewardsCard.com for details.
Cash Rewards Platinum – earn 1% cash back on all net purchases. Cash rewards never expire.
Platinum Edition– no penalty APR and competitive rates.
Enjoy the following features with all of the above options:
Competitive Rates*
Free FICO Score1
Cell Phone Protection2
Fraud Monitoring and Zero Fraud Liability
SecurLOCKTM Email and Text Fraud Alerts
Mobile Payments
*See the card application's Important Disclosures for current terms, rates and fees. The Card is issued by TCM Bank, N.A. Subject to credit approval. 1FICO is a registered trademark of Fair Isaac Corporation in the United States and other countries. FICO Scores are updated monthly. You may not see your FICO Score right away. Some exclusions apply. Cardholders receiving employee pricing are not eligible. 2Certain terms, conditions and exclusions apply. In order for the coverage to apply, you must charge your eligible cellular wireless bill to your covered TCM Bank-issued card. To learn more about this benefit or to file a claim visit the FAQ section at www.cardbenefitservices.com or call 1-866-894-8569.